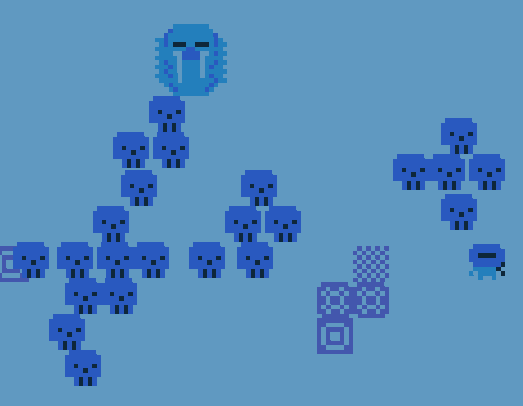 Cobalt Crypt
A downloadable game for Windows and Linux
Cobalt Crypt is an arcady twin stick shooter with a focus on fast paced and fun game play. Featuring addicting, quick play sessions, three enemy types, and explosions!
Heres some more gameplay by Pras, on youtube!
CONTROLS
arrow keys - movement
wasd - shooting
q - change weapon

press s to start the game, press r to retry
COMMAND LINE ARGUMENTS
no_music - removes music from the game
vol int - sets volume to int
bc int - sets the body count to int
help - shows a help message

MUSIC: Three Chain Links - The Only Me Is Me
https://soundcloud.com/beardmont/the-only-me-is-me
Beardmont/Three Chain Links is an awesome guy who lets anyone use his music under creative commons. Thank you so much man.


SOUND EFFECTS: http://sfbgames.com/chiptone
Brilliant sound effect generator.


ART: Piskel Sprite Editor
A fantastic in browser sprite editor. Has everything you could ever need

PROGRAMMING LANGUAGE: Python3 + SDL2

CONTACT:
Reddit: /u/madseagames
Email: madseagames@gmail.com


Thanks to the guys who wrote the python sdl bindings. You guys are the real mvps.


And finally, thank you /r/gamedev. You saved my ass on numerous occasions.
Install instructions
Unzip the game and simply double click main/main.exe to run the game. If you are having troubles run the game in command prompt and comment what comes up. Report any bugs/improvements in the comments!